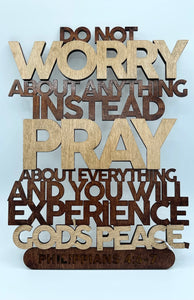 Philippines 4:6-7 is a Bible verse featuring the timeless words of Philippians 4:6-7. This beautiful paraphrase, with its message on prayer and peace, lifts hearts and provides strength to readers. Its poetic quality and simple message are sure to bring comfort to all who read it.
Philippines 4:6-7 Do not be anxious about anything, but in every situation, by prayer and petition, with thanksgiving, present your requests to God. And the peace of God, which transcends all understanding, will guard your hearts and your minds in Christ Jesus.
Personalization not available for this item.