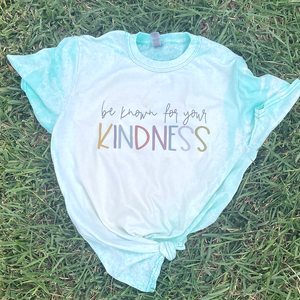 Live your values in style! Our Be Known For Your Kindness Bleached T-Shirt offers a comfortable fit and a lasting reminder to be kind. Choose to represent kindness with a vibrant and inspirational statement. What will you be known for?
 This shirt comes in Aqua (Pictured).

Bleaching pattern may differ per shirt. 
Processing time is 2-3 weeks. (Weather permitting)