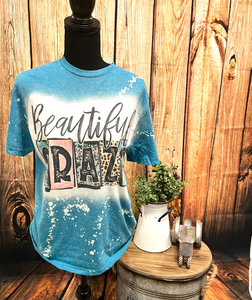 Introducing the Beautiful Crazy Bleached T-Shirt! Crafted with soft, comfortable fabric, this beautiful leopard-printed shirt will make you stand out in any crowd. With luxurious bleaches and vivid colors, this stunning piece of clothing is sure to liven up any look! Dare to be different!
This shirt come in Teal(Pictured).

Bleaching pattern may differ per shirt. 
Processing time is 2-3 weeks (weather permitting).